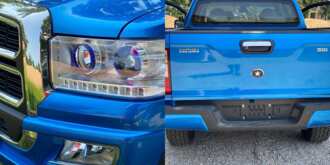 Kantanka Automobile, a local car manufacturing company, has released a new model of cars named the Omama which is a beautiful 4x4 pickup vehicle.
Kwadwo Safo Jnr, the CEO of the Kantanka Group of companies under which the Ghanaian automobile company is a subsidiary, revealed this on his Twitter handle.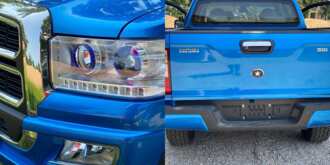 Apart from the stunning exterior design of the Omama, it is also stuffed with amazing features on the dashboard and has stirred up reactions among Ghanaians on Twitter.
See the exterior features in the photos below:
Itz Kolony Gh sounded proud that such an amazing car was made in Ghana and suggested that he might need to grab one soon.
Dr Ayigbe Borla Bird dug out old car models from the automobile group to make his point that Kantanka has not been doing enough to provide cars for Ghanaians.
Adey Lie also mentioned that Kantanka Automobile was granted a 10-year tax waiver by the government but has always engaged in cars like the one he described as a 'grasshopper'.
Kwaku_Stunnar is under the impression that the Kantanka vehicles are really expensive.