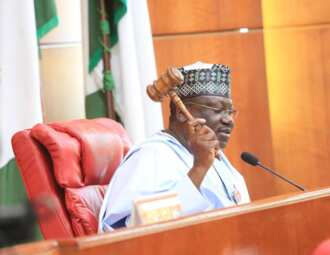 Yamah Mohammed Musa, an ambassadorial nominee from Edo state, has hit the Senate's red spot after boasting about his achievement towards the emergence of the All Progressive Congress (APC).
Musa, who was one of the 41 non-career and one career ambassadorial nominees whose names were sent to the Senate for screening, was Wednesday, July 15, asked to speak on his achievement in APC.
Senator Adamu Muhammad Bulkachuwa, chairman of the Senate committee on foreign affairs, had asked the nominee to mention why he deserved the Senate's vote of confidence.
Musa, however, ran into trouble when he boasted that he was part of the team that conducted primary election for all of House of Representatives members including the speaker, Femi Gbajabiamila.
"I was in the forefront of party members who conducted primary elections for all our House of Representatives candidates in the southwest, one of whom is the speaker of the House of Representatives, Femi Gbajabiamila," he said.
The nominee's response irked the screening committee with Senator Ibikunle Amosu, former Ogun state governor, dubbing Musa's achievement as a sham.
"Please such exercise is not something you should be referring to as achievement because as party members, we knew what happened then and those behind it.
"We don't want you to carry this type of mindset to foreign post if eventually confirmed, so the earlier you erased such unbecoming assignments as personal achievements, the better," Amosun said.